Where I am, a suburb of Merrimack Valley region, Massachusetts, USA, everything is closed. Schools are closed for 3 weeks. My department store is closed until further notice. Restaurants are take-away only. No more gatherings of over 10 people. Practice handwashing. Coughing in elbow. EFA meetings are cancelled and moved virtually. I'm so thankful for Zoom. As a freelancer, I'm used to working virtually but not with a full house. My son doesn't understand why schools are closed but we can't go out or do fun things like Chuck E. Cheese's or waterparks. Before this outbreak began, we planned a short vacation to the waterpark, which had to be cancelled. My daughter is excited about having her brother home from school. Trying to manage a 10-year-old with autism and a toddler takes creativity, patience, and so much energy. I feel it's all being tested.
Our current situation and closures are not an easy place for those with anxiety, extroverts, parents, elderly, and individuals with illnesses/conditions. Uncertainty is tough for most people. I could say a lot about our country's leadership. Such a disappointment.
It all seemed to spiral into madness overnight. Just before these closures, we were debating whether to cancel a weekend trip to a waterpark. We did. At that time, there seemed to be so much information and opinions, some conflicting. The challenge was staying anchored and figuring out the facts versus hysteria. I have been working my part-time hours at the department store at the cosmetics counter and freelancing. We noticed less people shopping. But our hand sanitizers were selling fast. Then, on a Saturday our store closed early till more notification. My son's school is cancelled for 3 weeks. Days later, my boss calls me to let me know that they're closing until further notice. For part-timers like me, all our sick time accrued to this point will be paid to us, and we can apply for unemployment.
As for freelancing, it isn't exactly business as usual. Publishers are closed because they are considered nonessential. Some remote work is possible. As for me, my son would have been in school when I'm working. Trying to quickly adjust and figure out things during uncertainty is stressful. It's frustrating. Tasks take longer. Speaking of which, I have to get back to one of my client's.
I'm simply overwhelmed. Everything seems daunting, even filling out an unemployment form. When school was closed, I nearly cried. Eddie was first excited for being home from school. Which kid wouldn't be? Yet, it's countless arguments on why we can't go to the play center, McDonalds, or other fun places. He's confused. It's a new situation and a change for him.
Parents of Young Children 
As if our regular days aren't hectic enough. Clingy toddlers while trying to deal with the madness. Arguing with your kids why they can't have sleepovers, go to the mall, indoor playground. Pacifying and explaining the situation to a scared child. It's a lot to handle.
By the way, here's a social story about the Coronavirus shared by my son's teacher. It's helpful in explaining the situation.
Parents of teenagers are also saying the same thing. One of my coworkers called her daughter, only to find out that she was going to a sleepover with her friends. This isn't a vacation. Otherwise, what would be the point of having schools closed?
My concern is keeping everyone sane, going through these weeks, and Eddie regressing after a long break. We're having him do some reading, math, exercise, and then there are other things like baking cupcakes, learning to clean the house, and so on. My mother is a perfectionist and I think she finally figured out that it's best to let go of somethings. Otherwise, you'd get tired and worn out. My approach is laid-back yet structured. I think it's ok to let go of TV time. Letting them watch an extra few hours of TV isn't the end of the world. But, Eddie earns it. I hope this works.
Freelance Editing and Novel Writing
Theoretically, this would be the time to get that novel written completely and get ahead with my marketing, professional development, and other freelancer tasks. Nope! Did I mention that my son is home? I have to figure out which tasks can be done while watching them and which can't. Tasks take longer with kids.
Then, I'm seeing social media posts like this one on the left.
Ha ha, I get it. I'm sure introverts are loving it.
It's funny. The idea behind it may be true for some. But not really for me or other freelancers. There's this idea that freelancers are introverts, socially awkward, or aloof eccentrics. BTW, did you know that introvert does not mean social ineptitude.
I work from home, but that doesn't mean that I don't constantly interact with others, or lack a social life. Networking is vital for getting jobs (and paid). I enjoy it.
I'm an extroverted freelancer. It's frustrating being stuck at home. I'm trying to figure out how to make it work.
Grocery Shopping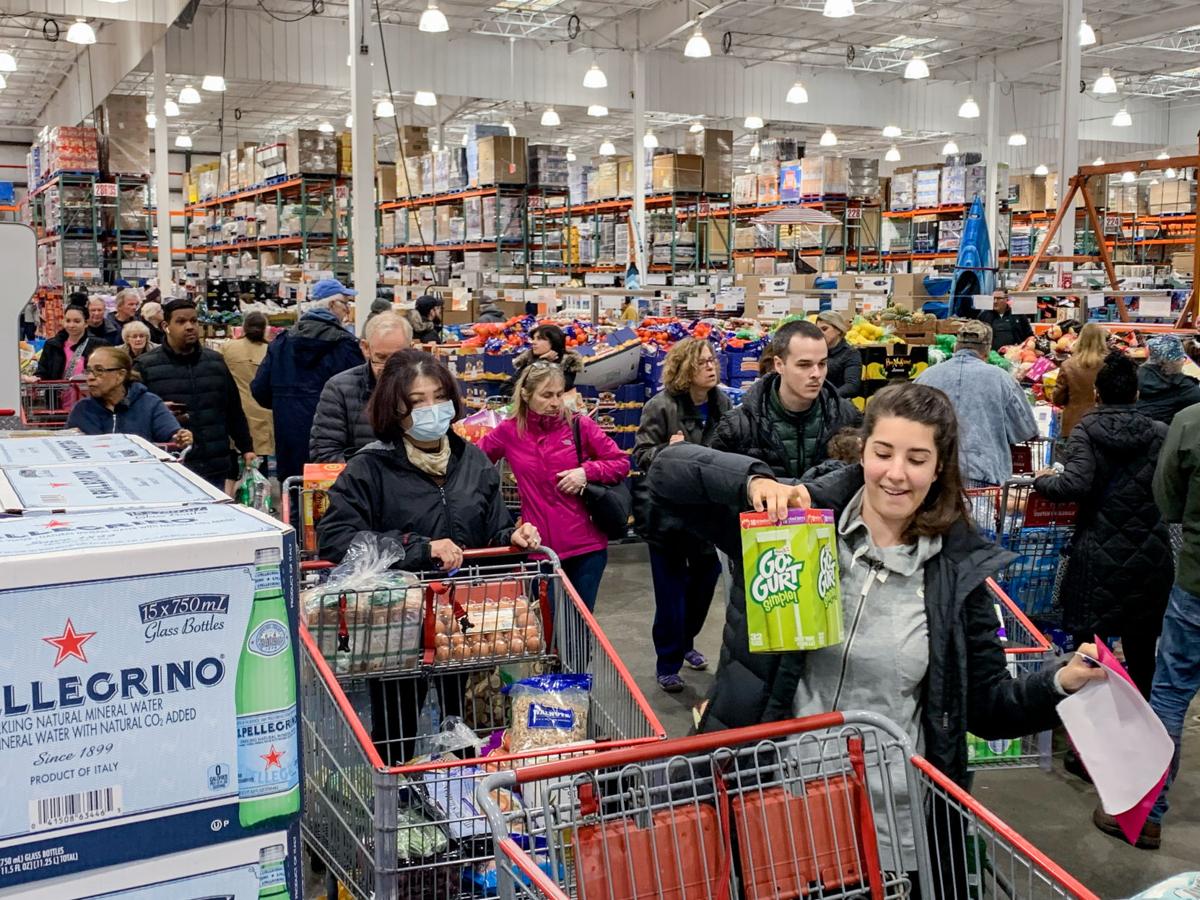 Extroverted I may be, but I simply loathe shopping during busy times. I avoid the malls like the plague during the busy holiday season. I heard rumors of hoarders and empty shelves. I wasn't sure how widespread it was till I went out grocery shopping. It took several trips to get the most important supplies: soap, toilet paper, baby wipes, diapers, pasta, pasta sauce, flour, and meat (chicken breasts, steak, frozen fish).
I called up Bath & Body and they got restock of hand sanitizers. I grabbed travel versions of them. I made sure to get enough to get by the next 3 weeks. I didn't want to hoard and contribute to the problem. Thankfully, stores were putting limits. If you need over 200 rolls of toilet paper for the next 3 weeks, you'd have to see a doctor even before the coronavirus pandemic.
Here's another thing, I went to the H-mart because it wasn't hit as hard like the "mainstream" grocery stores. I was able to get chicken breasts, chicken thighs, fish, fresh vegetables and fruits, crackers and snacks. I suppose I could use xenophobia to my advantage. By the way, you cannot get the virus from packages shipped from China. By then, the virus would have died.
I'm now good with groceries. Phew! It's exhausting to get through the long lines. Of course, I didn't forget the real essentials: wine, beer, cheese, chocolate. When the kids are in bed, I'm savoring quiet time with my husband.